Realizing Potential with Mindset
Based on the work of Dr. Carol Dweck, Stanford University social and developmental psychologist, Realizing Potential with Mindset focuses on educators' capacity to reevaluate and transform their approach to understand their own behavior and reactions to feedback and how that personal self-assessment can then impact their students. By reflecting on and analyzing their own mindset, participants will gain the skills to reframe their understanding of their students and classroom community as a whole. Participants will utilize an equity lens to better understand factors that impact student engagement, persistence, and achievement. Participants will plan specific action steps using strategies to foster a growth mindset in their learning institutions.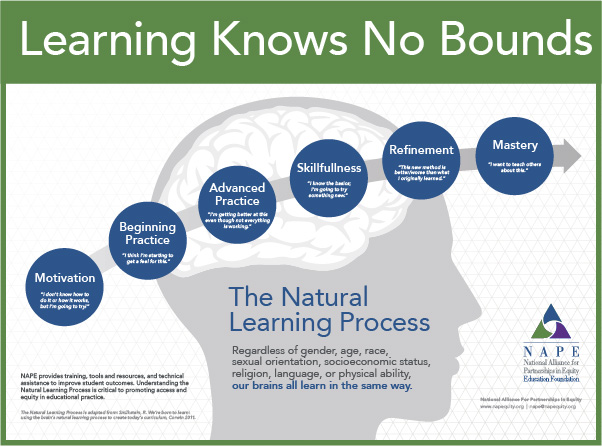 Secondary/Postsecondary Teachers/Staff,  Administrators, Counselors, Support Staff, State Departments
Virtual or face-to-face; approach can be customized to meet the needs of educators. Also available as a self-paced online learning module.
NAPE's professional development solutions are designed to assist teams of educators to address specific needs related to: equitable learning environments, student academic success and ultimately, readiness to pursue high-wage, high-skill, high-demand careers.