Micromessaging to Reach and Teach Every Student™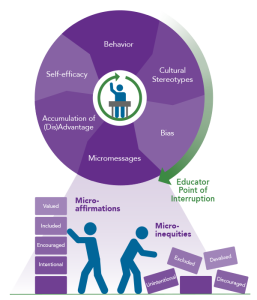 Micromessaging to Reach and Teach Every Student™ is a research-based, professional development program to increase educators' awareness and understanding of the effect subtle messages and unconscious bias can have on student learning, participation, persistence, and engagement. This unique program provides participants with an awareness of the power of micromessages, which include looks, gestures, tone of voice, and the framing of feedback that subtly yet powerfully impact our culture, classrooms, and the individuals within them. Participants will reflect on their own practices and learn strategies to disrupt the accumulation of disadvantages in order to create a more equitable learning environment that nurtures positive student outcomes, especially in STEM and CTE.
Secondary/Postsecondary Teachers/Staff,  Administrators, Counselors, Support Staff, State Departments
Virtual or face-to-face; approach can be customized to meet the needs of educators
Offered as a year-long Academy or in short half-day and full day sessions
Full Academy includes up to 30 hours of professional learning, PLC sessions, peer observations, and Action Research for Equity Projects
Also available as a self-paced online learning module
On pre-to-post surveys of:
The Educators' Equity in STEM Academy attended by 92 faculty from 15 colleges and 11 states, participants self-reported an increase of over 200% in their knowledge of how to disrupt the cycle of inequity and foster strategies that increase potential for success for marginalized students. 84% of college faculty observed a positive impact on students. See impact summary.
Micromessaging Academies attended by 152 educators from 7 school districts in 2019-20, respondents reported a statistically significant increase in their self-efficacy and a 96% increase in their equity knowledge and skills
Research utilizing NAPE's Micromessaging to Reach and Teach Every Student™
Schmitz, S., Ebersole, T. E., Morrell, C., & Parker, C. (2018). Measuring the effectiveness of community college faculty learning communities on student performance. Learning Communities Journal, 10, 87-108.

Parker, C., Morrell, C., Morrell, C. & Chang, L. (2016). Shifting Understandings of Community College Faculty Members: Results of an Equity-Focused Professional Development Experience.

Journal of Faculty Development

. 45. 29-41.
NAPE's professional development solutions are designed to assist teams of educators to address specific needs related to: equitable learning environments, student academic success and ultimately, readiness to pursue high-wage, high-skill, high-demand careers.