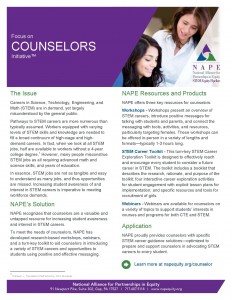 NAPE recognizes that counselors are a valuable and untapped resource for increasing student awareness and interest in STEM careers. To meet the needs of counselors, NAPE has developed research-based workshops, webinars, and a toolkit to aid counselors in introducing a variety of CTE and STEM careers and opportunities to students using positive and effective messaging.
Toolkits
Designed to effectively reach and encourage all students to consider a future career in STEM, the Explore STEM Careers toolkit provides an overview of STEM careers, introduces positive language for talking with students, and connects the messaging with tools, activities, and resources.
The Explore Nontraditional Careers toolkit provides a research-grounded process to assist educators in transforming their practice to increase the participation and persistence of students in nontraditional occupational programs and pathways. Through a process of examination, reflection, and action, the activities in this toolkit prepare educators to reach, teach, and maximize the success of every student.
Workshops
Workshops present an overview of STEM careers, introduce positive messages for talking with students and parents, and connect the messaging with tools, activities, and resources, particularly targeting females. These workshops can be offered in-person in a variety of lengths and formats—typically 1-3 hours long.
Webinars
Webinars are available for counselors on a variety of topics to support students' interests in courses and programs for both CTE and STEM. Click here for an example.
Resources
Visit NAPE's STEM Careers: Just for Students webpage. NAPE has also identified the following as excellent resources for parents and families:
[button link="https://napequity.org/professional-development/request-professional-development/" color="#7f30ae" size="2″ style="1″ dark="0″ radius="auto" target="self"]Request Professional Development[/button]