The Workforce and Education Alliance to Realize Equity in STEM and CTE (WE ARE STEM & CTE) represents a collective impact network of Career and Technical Education (CTE), STEM education and workforce development stakeholders from government, business, education, and community leaders across the nation supported by a backbone organization, the National Alliance for Partnerships in Equity (NAPE). This application will be focused on the goal of increasing participation and closing achievement gaps in STEM education, including CTE at the middle school, high school, and community college level.

Along with NAPE (CEO Ben Williams serving as PI), the leading partners of this national Alliance are:
Iowa STEM Governor's Advisory Council (CoPI Carrie Rankin) representing the Midwest Regional Hub
Tennessee Board of Regents (CoPI Michael Tinsley) representing the Southern Regional Hub
Utah STEM Action Center (CoPI Tamara Lynne Goetz) representing the Western Regional Hub
West Virginia University (CoPI Gay Stewart) representing the Northeastern Regional Hub
WE ARE STEM & CTE also includes a Steering Committee of 20+ organizations, as well as a Council of Alliances, existing national STEM alliances that will serve as subject matter experts in collective impact and collaborative change.
By employing a collective impact approach, the participating organizations will create a common agenda, identify shared metrics, implement mutually reinforcing activities, and maintain continuous communication. The partners will identify effective practices focused on the common set of objectives and impact policy and investments to bring them to scale.
If and when the proposal is funded, the Alliance will continue to expand its collective impact network by seeking partners whose programs impact the formal STEM education system.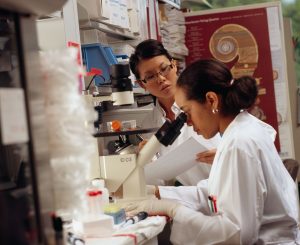 Background on NAPE's NSF INCLUDES DDLP Grant
In 2017, NAPE received an NSF INCLUDES Design Development Launch Pilot to work on developing a six-state collective impact alliance with Colorado, Idaho, Wyoming, Utah, Nevada, and New Mexico called the Intermountain (IM) STEM Alliance.
IM STEM has been working on these collective impact elements:
Common agenda focused on broadening participation of students underrepresented by gender, race and ethnicity, disability, and socioeconomics, in STEM and CTE.
Shared measurement practices and systems in place to build upon as the alliance formation expands the partners and available data for measuring progress.
Mutually reinforcing activities as defined by an asset map and a process for scaling effective practices across the alliance.
Continuous communication mechanisms in place to ensure that all members of the alliance are informed and engaged in the work.
Backbone support of a national organization (NAPE) with experience and capacity to help support and expand the alliance to more stakeholders in more states
To learn more about NAPE's current NSF INCLUDES Design Development Launch Pilot – Intermountain STEM – go to https://napequity.org/stem/stem-equity-project/imstem/