Published by NAPE, courtesy of Project SERVE/ENTER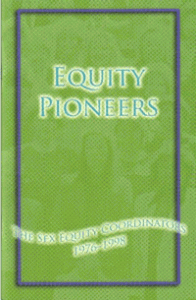 This excellent, historical resource book represents an attempt to capture the history of the sex equity coordinators (SECs) as they implemented the mandates of Perkins I and II, the federal laws funding vocational education from 1976 until 1998. The first position to be required by federal legislation, the SECs began with nothing more than a vague directive to "fix" sex discrimination and sex bias in vocational education. They were determined, courageous, innovative, assertive, and ultimately successful. Because of their efforts, old ideas about careers and gender were re-evaluated; old ideas about women and men in the workplace were examined; and old ideas about sex equity were replaced with common sense practices that benefited everyone. Because of their efforts, national alliances were formed, and strong networks across states flourished. Because of their efforts, thousands of women and girls and young men were given opportunities to follow their dreams and prepare for self-sustaining careers and occupations. The Sex Equity Coordinators changed the face of vocational education and made it a welcoming arena for all.
Contact the NAPE National Office for information about ordering.