State Contact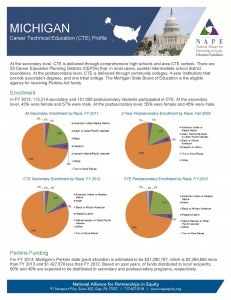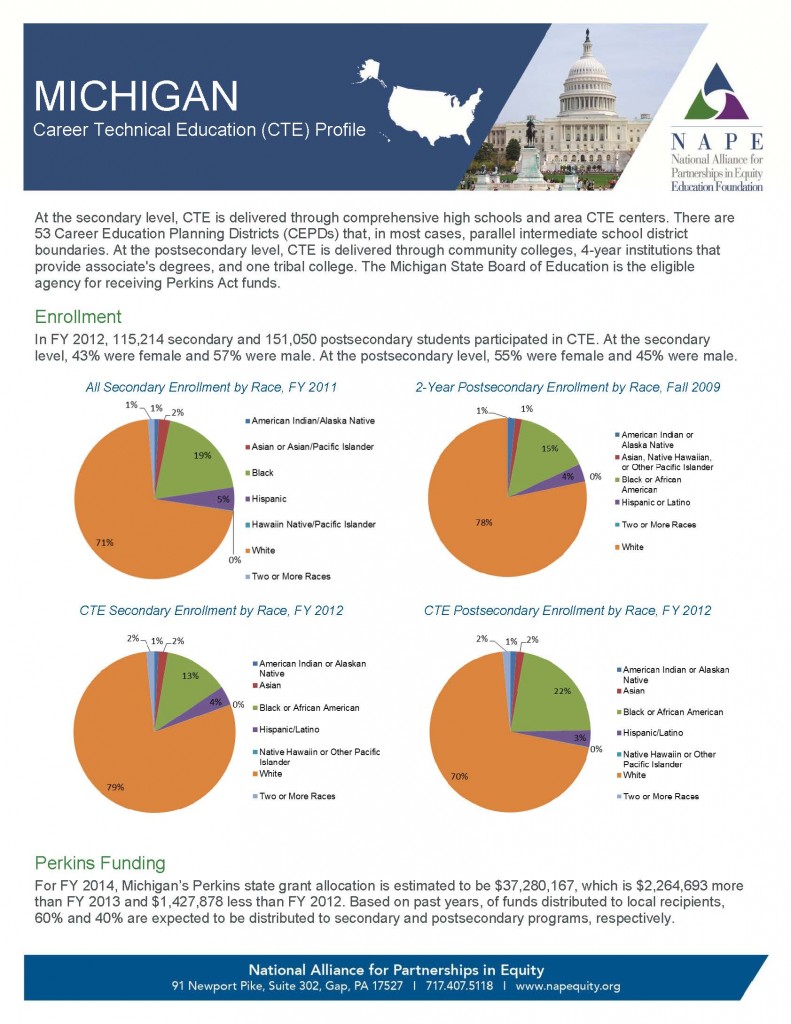 Elizabeth Collins
Gender Equity Consultant
Michigan Department of Education
PO Box 30712
Lansing, MI 48909-8212
Phone: (517) 241-2091
Fax: (517) 373-8776
Email: collinse2@michigan.gov
NAPE CTE Profile
NAPE's CTE profile describes how career and technical education (CTE) is delivered and funded at the secondary and postsecondary levels and presents CTE enrollment data by gender and race, performance data for CTE concentrators, career cluster enrollment by gender, and projected job creation by career cluster to 2018.
State-Specific Websites
Michigan Department of Education Office of Career and Technical Education
Other Resources
Carl D. Perkins Vocational and Technical Education Act Reports to Congress on State Performance provides state profiles for each of the core indicators (academic attainment, attainment of diplomas or degrees, placement and retention in further education or employment, and participation and completion of non-traditional training programs) for secondary and postsecondary programs.
The U.S. Department of Education has launched a new interactive Website, ED Data Express, that consolidates relevant data collected by the Department from several different sources and provides search tools that allow users to create individualized reports.
The National Association of State Directors of Career and Technical Education Consortium State CTE Profile webpage provides an interactive state map that enables you to learn more about CTE in the state of your choice.