Micromessaging to Reach and Teach Every Student™
NAPE believes that inequities in education must be addressed to ensure equitable learning environments where every student can thrive.
The NAPE Education Foundation developed the Micromessaging to Reach and Teach Every Student ™ professional learning to support educators in creating equitable learning environments. 
The NAPE Culture Wheel frames the discussion of micromessages – small messages that can have a big impact on student success. Micromessages include looks, gestures, tone of voice, or the framing of feedback that subtly yet powerfully shape our culture, institutions, classrooms, and the individuals within them. The curriculum combines the power of micromessages with research-based social learning theories including self-efficacy, educator mindset, attribution theory, and stereotype threat. Micromessaging addresses bias, the impact of the dominant narrative, asset-versus deficit-based thinking, student voice, and building community.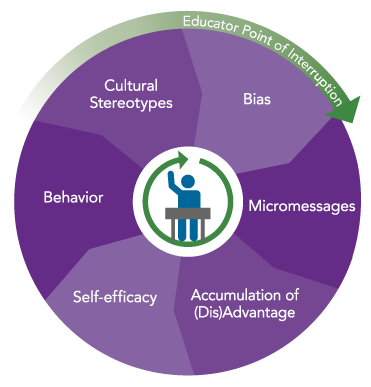 Targeted to: All educators and faculty
Format
Virtual or face-to-face; approach can be customized to meet the needs of educators
Offered as a year-long Academy or in short half-day and full day sessions
Full Academy includes up to 30 hours of professional learning, PLC sessions, peer observations, and Action Research for Equity Projects
For more information contact nape@napequity.org
On pre-to-post surveys of:
The Educators' Equity in STEM Academy attended by 92 faculty from 15 colleges and 11 states, participants self-reported an increase of over 200% in their knowledge of how to disrupt the cycle of inequity and foster strategies that increase potential for success for marginalized students. 84% of college faculty observed a positive impact on students. See impact summary.
Micromessaging Academies attended by 152 educators from 7 school districts in 2019-20, respondents reported a statistically significant increase in their self-efficacy and a 96% increase in their equity knowledge and skills
Research utilizing NAPE's Micromessaging to Reach and Teach Every Student
NAPE's professional development solutions are designed to assist teams of educators to address specific needs related to: equitable learning environments, student academic success and ultimately, readiness to pursue high-wage, high-skill, high-demand careers.